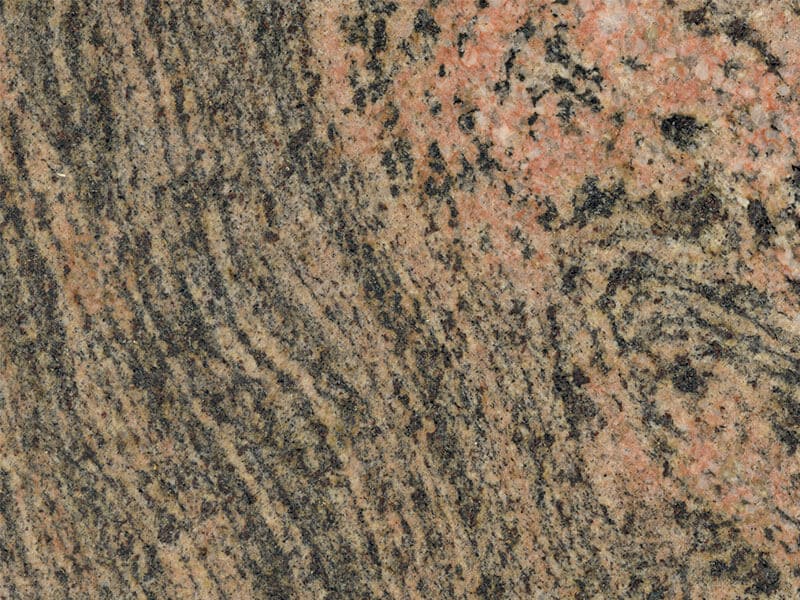 Tiger Skin Granite
Origin: North India
Color: Pink
Finish: Honed, Brushed, Bush Hammered, Natural, Sandblast, Flamed, lepatora
Offered In: Tiles, Slabs, Pavers, Blocks
Tiles Size: 30 X 30, 60 X 30, 60 X 60 cm
Cutter Slab Size: 120 - 190 x 60 - 90 cm
Gangsaw Slab Size: 260 - 290 x 160 - 180 cm
Product Detail
Tiger Skin Granite is having pinkish-red background with black continual and wavy movements describes the physical appearance of this granite. Black streaks present on this slab are similar to the streaks on a tiger's skin, the stone is mined at Tonk district, Rajasthan, North-West India. This granite can be creatively used for multiple of applications both in residential and commercial properties.
Application Areas
Tiger Skin Granite is pink, black and brown colored granite, suitable for inside and outside applications, it is available in customized dimensions as per the requirements of domestic and B2B customers. Due to its unique and elegant color and texture, the granite tile is a great choice for flooring, kitchen countertops, tabletops, vanity tops, ornamental stone, wall cladding, sinks, monuments, paving stone, cobbles, bar tops, and furniture. It has a smooth surface with long-lasting luster and high durability and therefore it is preferred for outdoor granite floor tiles, it is a favorite choice for many homeowners, builders and architects.

Royal Indian Stones, a leading manufacturer and exporter of Tiger Skin Granite stones from India, offers this granite stone in finishes like honed, polished, leather, lepatora, brushed, sandblasted, and sawn. As per the customer requirements, this granite stone is offered in varying shapes, thicknesses, and sizes.